The Different Printing Methods Available in Nigeria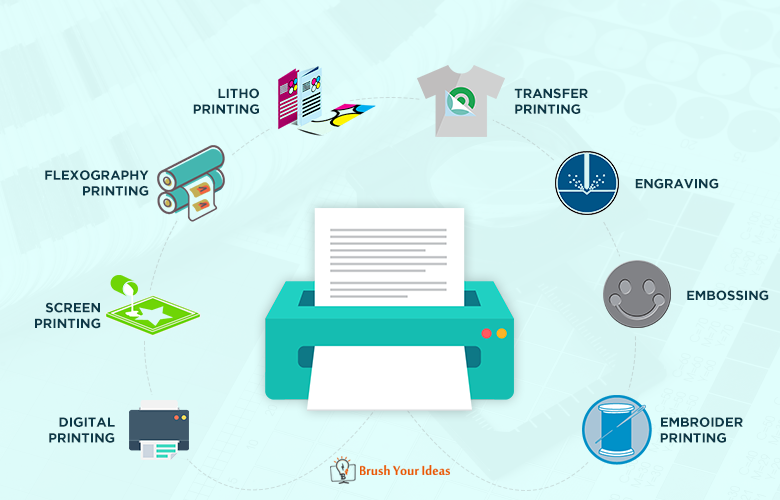 The online print shops is on the rise in Nigeria print industry. Some of the online print stores today are based in Lagos and offer personalized printed products for their customers. Part of this personalized print options is providing customers with the freedom to create their own design on a web-to-print software. Once the design is finalized, it is printed on various products and materials like t-shirts, mugs, USB, business cards etc.  Here are different print methods available and popular in nigeria
Following are the 8 different printing methods used in the web-to-print industry.
Digital Printing
Screen Printing
Flexography Printing
Litho Printing
Transfer Printing
Engraving
Embossing
Embroider Printing
1. Digital Printing
Used mostly for borders and murals, digital printing is defined as one of several non-impact technologies where the image or pattern is created, manipulated and finalized by electronic systems and printed by a computer controlled printer. In digital printing, the digital images are reproduced on physical surfaces like cloth, plastic, magnets, labels, cardboard, film etc. This kind of printing is done by industrial and desktop sized printers. It is not necessary to keep yourself confined to a single or two colours.
2. Screen Printing
Screen printing as we know it has been around since the early 20th century and is used for printing fabrics, wood, glass, signage etc. The image is transferred to a fine mesh and areas to be left blank are covered with a substrate. The printing process involves pushing ink through the openings in the mesh onto the end material. Screen printing utilizes different types of brightly colored inks and is often used for printing posters, t-shirts and other promotional items.
3. Flexography printing
Flexographic printing, or flexo, is similar to surface printing except the print cylinders employed are made of flexible materials, usually rubber. The Flexo process is used to yield a range of country, colonial, floral and mini-print designs. This process offers the manufacturer a technique for achieving more delicate designs than is possible with nonflexible surface rollers. Some tonal effects are possible. It makes use of water based inks and rubber plates which dry very quickly and enable faster production rates. With faster drying, more effective results can be obtained on materials like plastic.
4. Litho Printing
With offset or "litho" printing the image (your artwork) is transferred to metal plates and then from the plates to a rubber blanket. Then the inked blankets transfer the image onto paper. The process is called offset because the ink is first transferred from plate to blanket rather than going directly on to the paper. Because of the time and costs required for set up, plates and ink before anything is actually printed, offset isn't cost effective for smaller amounts and is usually only used when very large volumes are required.
5. Transfer Printing
Transfer printing is used when an image has to be applied on a curved or uneven surface. Mostly, it is used for printing on materials like porcelain and cloth like surfaces. Transfer printing asks for designs to have full digital images with vector and high resolution bitmap images which can be applied on an array of products.
6. Engraving
Engraving is considered to be the most expensive out of all the printing methods. Also, it takes a lot of time to get it implemented. When it comes to the making of royal invitation cards or business cards of high-ranking officials, engraving is the most commonly used printing method. The image is first engraved by a hand or machine on a metal plate. Thereafter, the engraved design is filled in with ink and a paper is pressed on it. As a result, a three-dimensional kind of crisp image can be obtained. Such results are difficult to produce by using other techniques.
7. Embossing
In this process, an impression of the design is created on a surface of the product. A fixed amount of pressure is given on the objects and marks are left after the pressure is released. There are two types of embossing:
Blind embossing: The embossed mark is of the colour of the product itself
Foil block: After the design is embossed, it is filled with metallic paints like silver and gold
8. Embroider Printing
Through embroidery printing, artwork can be recreated by decorating the fabric with designs that are stitched in strands of thread with a needle. A special printing machine is used for bulk production. One can provide colour references for this kind of printing. Embroiders try to match the colour hues which are nearest to the sample provided. With embroidery printing, it is better if you avoid an amalgamation of different colours. This was the method we used to print tshirts for cleaning service company in Lagos
Author: newadmin